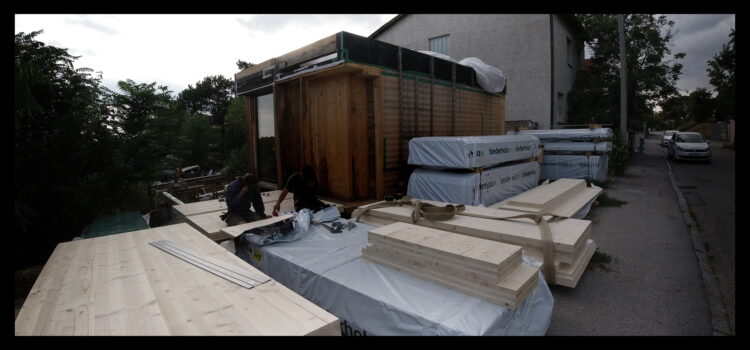 After we had already done all the important preliminary work, and all the wood had – with a few minor problems – finally arrived, the main part of the addition could begin.
Building with solid wood panels
Inspired by the original building, the extension was also to be built with cross-laminated solid wood panels. But since there was not enough space to use straw-insulated walls as well, we chose thicker wood panels instead. And in this case that means 18cm thick! If you want to cut a board like that, you need a circular saw so big that at least I almost can't carry it. But I digress…
Building with such panels – if you are building a new house – is probably a very simple matter. Everything is properly planned in the factory, is delivered exactly as you need it, and then "only" has to be assembled.
This then requires a huge crane, because those panels are so heavy that not even several strong people could carry them. And as soon as such a large piece of equipment is part of the construction site, the whole atmosphere is different, the energy much more high-frequency, and the stress level of everyone involved follows suit.
Special projects require special skills
As also mentioned in the post about the prep work, however, the assembly at my house was much more than just setting up and assembling the individual parts. We had to measure, and cut, and adjust, and fiddle. In fact, the whole first day we didn't even need the crane because so many other tasks were necessary. It certainly didn't help that I didn't even know where exactly I wanted my doors and how big they should be….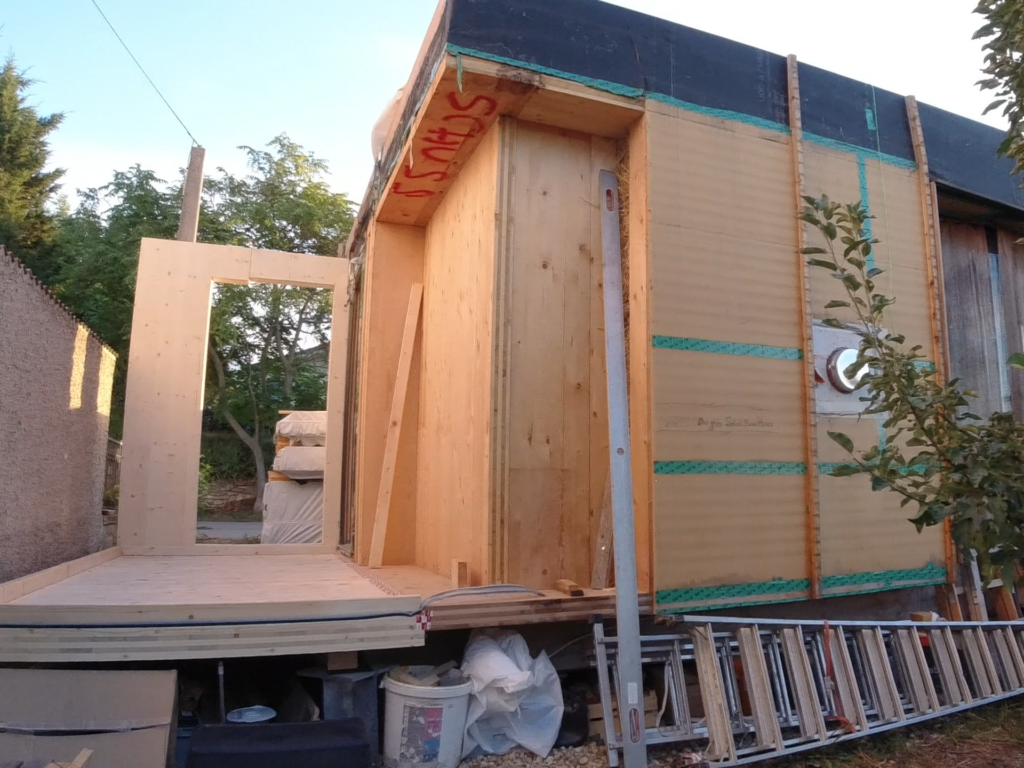 Even small fry make a mess
By the fourth day, we had all the panels installed, and you'd think that meant that most of the work was done. But as is so often the case, we always underestimate the not-so-visible detail work, which often takes up a much larger chunk of the effort than we think. With fine-tuning, caulking, painting, planing, and whatnot, we were still fully occupied the whole last day of construction, and didn't even quite finish.
Emotional work in the dual role
During this second week on the construction site, I was able to experience more intensively what it means to help build your own house as a layperson. It's nice to let your own energy flow into the house, but it's challenging enough to be involved in a construction site where there are lots of things to do that you've never done before.
Maybe even using huge machines that you've never used before.
But there is also the emotional challenge of making last-minute decisions, coordinating all the people, making sure that everyone is well taken care of, and making sure that everything really happens the way you planned it. It's not really surprising to have a small panic attack in between…
Interim Reflection
Even after this second phase of construction, it feels good to have a bit of a break and get used to the new change. There's suddenly a whole new area on the house. Almost like a teenager who has suddenly had a growth spurt, and doesn't quite know how to deal with this new body yet.
In addition, I also had to realize that such a construction somehow just happens much too fast. Similar to how some people feel after a long car ride, that they first need time to really arrive, this one week has shown me an important deeper realization: When we really do things sensitively and consciously, simply any speed at which our current society operates is actually far too fast for us to fully absorb the change. As sentient beings, it is important to give ourselves much more time. And all the great big machines that make everything so much easier or/and faster are another layer of distance between us and the deep connection with ourselves.
My little house is growing up