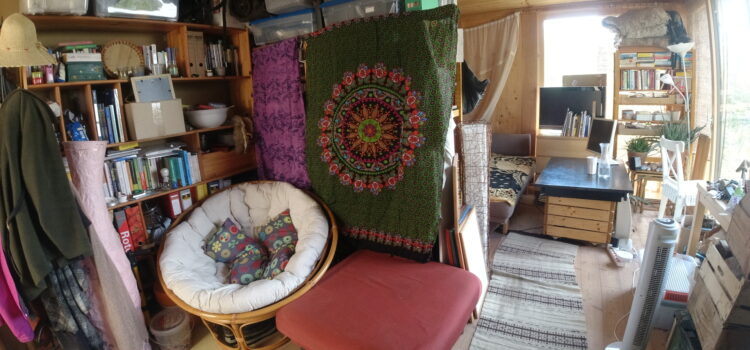 Everyone approaches it a little differently when we move into a new house or apartment. Some take all their old furniture with them, some buy everything new to start from scratch with their new living space. And neither of these approaches is better or worse than the other. However, with a Tiny House, you usually have to approach it a little different.
What do I need? And where?
In a Tiny House, we usually have to figure out exactly where what goes when we build it. Measuring and calculating everything exactly. Even much more precise than in a currently typical large home. We have to think carefully about where all the things we own can find their place, and how to put everything so that it doesn't feel like the whole house is cluttered.
The prerequisites
In my case I had an already existing Tiny House, which – as far as I know – was not really planned as a home, but rather as an additional living space, and generally just as a research project. So a little more creativity was required. I had a "big" room that had certain specifications due to the door, the fireplace and the window front.
At least I knew that I would have to add a bit to it anyway due to prevailing building codes, and thus the bathroom would be extra and not part of this room. At the same time, I had already decided at the time of submission where the water connection, and thus the kitchen would be. But other than that, I hadn't given it much thought.
My approach
I approached decorating my home the same way I approach so many other things in my life: Trial and error. I knew roughly where the bed would probably make the most sense, but that was it. And I knew that I wanted to use only all-wood furniture in my wonderful all-wood home, too.
Since it's important to me not to unnecessarily buy new when we can find beautiful things second hand (and because I don't like to unnecessarily pay more for things), my first step was to browse on willhaben, a second hand platform.
Within a week the whole house furnished
Soon enough, I found what I was looking for. A simple, beautiful, almost new all-wood kitchen that fit almost perfectly exactly where it was planned to go, just 3 towns away. Bingo! And even a small, extendable table with 2 chairs, and the refrigerator included.
Once there, and after we had just finished dismantling and loading the kitchen, the person selling us the kitchen asked, almost in passing, if I would also be interested in a couch. Also hardly used. Good quality. Extendable. Perfect!
If we'd had enough room, we'd have loaded it up right away…. But it was worth the second trip. Also included was a small cupboard and a few other accessories. In addition, I was able to pick up an electric stove nearby on the same day.
So I didn't have to think too much about how to set up my house. It just happened automatically as the furnishings came to me. All of this was augmented with simple IVAR shelves as room dividers, and I had already created my realm.
The home is allowed to grow
Even though a large part of the furnishings were there within a very short time, and I had simply set it up somehow, it showed more clearly over time, where which piece fit best. Where which piece may change its place again, and which pieces may develop or change further in the future.
Especially with a Tiny House, it is highly recommended to think more carefully about where some sophisticated system can be used. Where a table becomes a bed, a bed becomes a closet, or a closet becomes a table. All transformers are welcome.
But not everyone is so ingeniously inclined to plan everything in advance and to know exactly what they need where and how. I'm someone who has to try everything out and then make constant adjustments and improvements. So my house will always evolve.
When does a house become a home?
I can remember very clearly the first time I slept in my house. It was still in its original place, where it was built, even before it was transported to its current location. We had everything ready for the transport, and except for a few crossbeams, the house was empty.
I had taken my sleeping bag and sleeping mat with me, and had intuitively chosen a place that later actually became the place for my bed. Protected from one side, and in the other direction with a great view, or at least a great view at the glass front.
I was excited to build the relationship with my house, but it was just a house then. And even the first few nights in its new location, with a few furnishings were still very bumpy.
But as with any new relationship, it's a matter of time. With each time, with each night, and with each minor or major change in furnishings, I charged my house with my very own energy. And at some point, without any fanfare, but quietly and secretly, the house that I had just bought so spontaneously became not just my home, but my sanctuary, my cocoon, and my safe haven.
Tiny House Diaries – Making a house a home